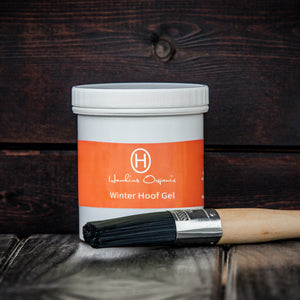 Winter Hoof Gel is the essential hoof gel for use during the cold and wetter months. Our gel is formulated using natural products and does not contain any harsh chemicals. By using vegetable glycerin our gel does not strip the hoof of oils and upset the natural balance. It provides all round hoof care to horses who live out and those stabled.
Horses and ponies that live out will benefit from the antibacterial properties of our gel, equally it is perfect for stabled horses as during the winter months.
Our gel is suitable for daily use and can be applied to the entire hoof wall and around the frog and sole.
Application:

We like to use a sponge or foam applicator to apply our gel. By rubbing the gel into the hoof it will warm the hoof wall and allow for the gel to penetrate and aid absorption. However you can also use a traditional hoof brush but as our gel is natural we suggest using a new one to avoid contamination with other products as these might affect the application and effectiveness of our product.
Our hoof gel is made using natural ingredients and organic essential oils including, tea tree oil, rosemary oil, clove oil and ginger.

Main Benefits of the ingredients we use:-
Vegetable glycerine
In our opinion the best natural moisturiser to the hoof and sole 
Tea Tree oil
Anti fungal
Antiseptic 
Rosemary Organic oil
Anti bacterial
Anti microbial
Prevents drying
Clove
Anti bacterial,
Improves circulation,
Anti fungal and anti inflammatory,
Ginger
Antiseptic