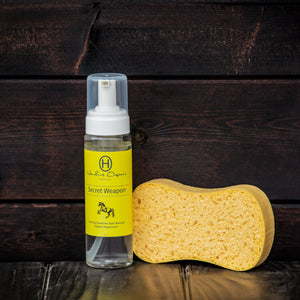 VOTED THE BEST STAIN REMOVER IN YOUR HORSE MAGAZINE MAY 2017!
This foam is one of my favourite products in our collection!.
Having had a grey horse I know how important it is to have effective products to get rid of all the stains!
An application of the foam is applied with a sponge and wiped over quickly removes stable and grass stains.
The ingredients to our foam are top secret, however we will reveal that it contains organic peppermint essential oil which also provide antibacterial benefits and even better you don't need to rinse.  As with all our grooming products the foam is natural, PH balanced and suitable for all skin types.
'Secret Weapon' is essential to any owner of a grey or coloured horse but is also useful for all colours when at shows. Ideal for mishaps after travelling and removes all sorts of stains and will leave your horse smelling great too.
200ml bottle with foamer lid.