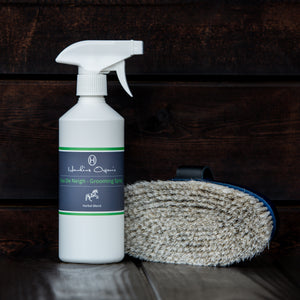 Our new formula of Eau De Neigh natural grooming spray contains a wonderul herbaceous blend of organic Peppermint, basil and rosemary essential oils.
Designed to be an all round grooming spray for use on coats, manes and tails.
Eau de neigh is moisturising, cooling, can help with hair growth and sooth dry and itchy skin.

More on benefits of our chosen oils are below.
Peppermint:    

Antimicrobial, anti-fungal, antibacterial
Helps promote hair growth
Basil:

Anti-inflammatory, antiseptic, anti-fungal & antimicrobial
Cooling and refreshing

Rosemary:    
Anti-inflammatory, anti-fungal & antimicrobial which helps to soothe
Stimulates hair growth and can help with itchy skin
Why are our grooming sprays so good?
All Hawkins Organic products are hand blended in a natural base and pH balanced so suitable for horses with sensitive skin and mild enough for regular use. We have been making grooming sprays for 10 years and use high quality natural ingredients and premium grade organic essential oils.

Top tip:-
If you need to plait a mane but don't have time to wash it, spray some of "Eau de Neigh" on the roots where it can look dirty and scurfy. Our spray can help remove  scurf and dust and leave your mane looking refreshed.
You can also spray onto the mane after plaiting to provide an all round shine and show ring finish. The judges will also appreciate the divine smell too!
Directions for use:
Shake to wake the natural ingredients as they can settle. Spray on coat, mane and tail. You can then brush out use a grooming mit or cloth
Please remember to avoid using around eyes, nose and on any broken skin.

500ml and 1 litre bottles come with spray. We can also offer 2.5 and 5 litres refills but they do not come with a spray.