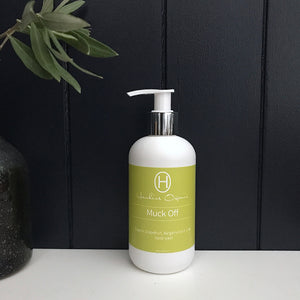 Our new 'Muck off' contains essential oils of Organic Grapefruit, Lime and Bergamot which has been hand blended and offers a wonderful hand and body wash.
Why this blend?
I wanted to create a hand wash that would be able to clean my grubby hands after being on the yard or in the garden but at this current time when hand washing is essential would offer extra cleansing properties and a sense of wellbeing too.
I have chosen to use this blend combing three amazing essential oils that I love on their own and also together.
(please note they are known to offer these benefits but we advise customers to carry out their own research)
Grapefruit, combats tiredness, antiseptic, astringent, good for tension headaches, combats tiredness, and can help lift emotions.
Bergamot, good for dry and itchy skin, balancing effect on the mind, eases anxiety, anti-bacterial and anti-viral.
Lime, antiseptic and can help maintain moisture levels
"Muck off" is a wonderful hand wash which should be by every sink. A natural hand wash that contains no parabens, SLS.

We offer a hand lotion 'Stable hands' lotion. Our hand wash can be used in the shower too or even as a bubble bath. I adore a good soak in the bath we love the fact 'Muck off' is multi-purpose.
Please note that the label might differ whilst we wait for our new labels.