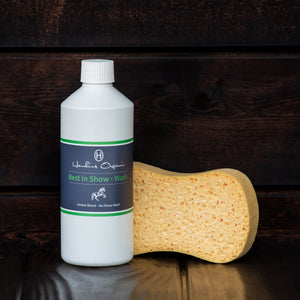 Just launched!
Best in Show no rinse wash is the perfect wash for use after exercise, or if time is tight for a full shampoo.
Containing a wonderful herbaceous blend of peppermint, basil and rosemary organic essential oils.  Moisturising and cooling but adding much needed moisture to dry skin too.
Designed to be a great year round wash but perfect for the warmer months too,
Our herbal wash contains three organic essential oils, which have been selected and blended, to provide the following benefits:
Peppermint:    

Antimicrobial, anti-fungal, antibacterial
Helps promote hair growth
Basil:

Anti-inflammatory, antiseptic, anti-fungal & antimicrobial
Cooling and refreshing

Rosemary:    
Anti-inflammatory, anti-fungal & antimicrobial which helps to soothe
Stimulates hair growth and can help with itchy skin
Why are our washes so amazing?
All Hawkins Organic products are hand blended in a natural base and pH balanced so suitable for horses with sensitive skin and mild enough for regular use. No need to rinse so saves water and also time.

Directions for use:
Shake to wake the natural ingredients as they can settle. Add two capfuls of wash to 1/2 bucket of water.
Apply with sponge/cloth wash all over, avoiding the eyes and squidgy dry.

No need to rinse!
Please remember to avoid using around eyes, nose and on any broken skin.