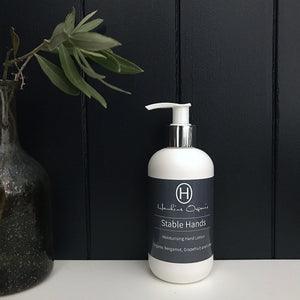 I wanted to create a hand cream that would nurture my hands and with all the additional hand washing at the moment 'Stable Hands' is a must have.

I love Lime, Grapefruit & Bergamot this zesty combination known for their beneficial properties:-
Lime: antiseptic and helps maintain moisture levels 

Grapefruit: antiseptic,

combats

tiredness, toning & revitalising

Bergamot: antibacterial, antiviral, balances mood & eases anxiety

My requirements were simple, a natural product that contained no parabens, SLS, colours or any nasties.
Using soil associated certified Lime, Bergamot & Grapefruit. The oils we use are Vegan friendly and not tested on animals.
We offer a hand wash which compliments the lotion and both products can be used as an all over body moisturiser.