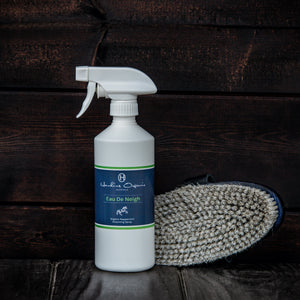 I have used detangling spray and grooming sprays for years but found the chemicals in some of them overpowering and was keen to create a spray that I could use daily.
Our natural grooming and detangling spray contains organic Peppermint essential oil. It is antibacterial with the added benefit of coconut which nourishes  coats, manes and tails.
We only use certfied organic essential oils that are not tested on animals and are vegan.
Top tip:- if you need to plait a mane but don't have time to wash it, spray some of "Eau de Neigh" on the roots where it can look dirty and scurfy. Our spray will miraculously absorbs the dust and leave your mane looking refreshed. You can also spray onto the mane after plaiting to provide an all round shine and show ring finish. The judges will also appreciate the divine smell too.

Please note both the 500ml and 1 litre bottles come with spray. We can also offer 2.5 and 5 litres refills but they do not come with a spray.