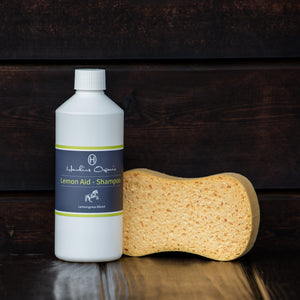 Our Lemon Aid Shampoo is the perfect partner to our Lemon Aid no-rinse wash.
Containing a wonderfully zesty, moisturising and soothing blend of organic essential oils this is a great shampoo particularly for the Spring and Summer months, or if you and your horse. need a little uplifting!
The formula contains three organic essential oils, which have been selected and blended, to provide the following benefits:
Lemongrass:      
Anti-inflammatory, antiseptic & anti-fungal which helps add a natural shine to the coat
Cedarwood:     
Anti-inflammatory, antiseptic, anti-fungal & antimicrobial which can help with hair regrowth. It can also help soothe and calm irritated skin and is great for dry and flaky skin.
Lavender:        
Anti-inflammatory, anti-fungal & antimicrobial which helps to soothe.
All Hawkins Organic products are not tested on animals and use vegan, cruelty free oils. They are hand blended in a natural base and perfectly pH balanced so suitable for horses with sensitive skin and mild enough for regular use.
Directions for use:
Shake to wake the natural ingredients as they can settle. Dilute before use. Thoroughly wet coat, mane and tail and add two capfuls to a bucket of water. Apply to coat using a sponge avoiding eyes. Apply shampoo massaging into the coat, we like to use a grooming brush to help lift excess dirt and scurf. Rinse well then squidge off!
Please remember to avoid using on sensitive areas including eyes, nose and on any broken skin.