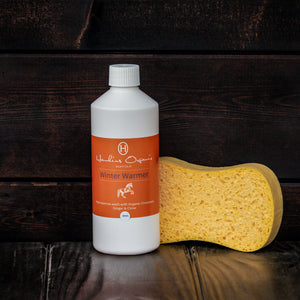 Our original 'Winter Warmer' wash contains cinnamon, clove and ginger and helps to remove sweat, cleanse and refresh your horse but can also help warm tired muscles.
Using essential oils which have a vast range of benefits when combined our wash is a must have during the cooler months.
Containing antibacterial properties our wash is  ideal for use after exercise, a days hunting and can also be used as a general cleansing wash when time or water are limited.  
Used with hot or cold water but we recommend warm water as the perfect tonic after clipping as it will help gently cleanse freshly clipped skin also benefit offering anti-bacterial and antiseptic properties.
PH balanced our wash is suitable for regular use and it does not contain any sulphates, parabens, or nasty chemicals.
Directions for use:-
Add a couple of capfuls of wash into a litre of water (ideally warm), sponge any areas but avoid around the immediate eye and muzzle area. There is no need to wash off, brush coat once dry.