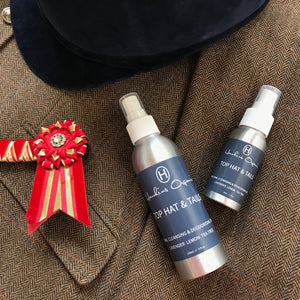 Top Hat & Tails cleansing & deodorising spray is the perfect spray to keep your riding hats, body protectors and riding attire cleansed and fresh.
Using vegan soil association organic essential oils and natural cleansers our first blend contains the following essential oils:
Lemon - invigorating, clears the mind, antiseptic & natural deodoriser
Lavender - calming, anti-fungal, antiseptic & antibacterial
Tea tree - boosts immunity, deodoriser, antiseptic & anti-fungal
Our sprays are so easy to use. To freshen and deodorise just spritz on and leave to dry or apply to a damp, clean cloth and wipe away any grease and surface dirt (please do patch test first).
As with all our products the sprays are not tested on animals and do not contain any synthetic fragrances or harsh chemicals.
Available in either a 50ml or 150ml aluminium spray bottle.