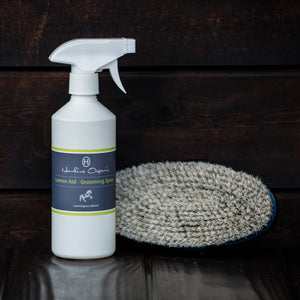 Our Lemon Aid Grooming Spray is the perfect addition to our Lemon Aid Range.  Containing a wonderfully zesty, moisturising and soothing blend of organic essential oils, this spray is ideal for daily use on the coat, mane and tail and is great for plaiting!
It offers an uplifting experience when using on your horse and we love to spray it around the stable as it naturally gives us a boost too.
The formula contains three organic essential oils, which have been selected and blended to provide the following benefits:
Lemongrass:      
Anti-inflammatory, antiseptic & anti-fungal which helps add a natural shine to the coat
Cedarwood:     
Anti-inflammatory, antiseptic, anti-fungal & antimicrobial which can help with hair regrowth. It can also help soothe and calm irritated skin and is great for dry and flaky skin.
Lavender:        
Anti-inflammatory, anti-fungal & antimicrobial which helps to soothe.
All Hawkins Organic products are not tested on animals and use vegan, cruelty free oils. They are hand blended in a natural base and perfectly pH balanced so suitable for horses with sensitive skin and mild enough for regular use.
Directions for use:
Shake to wake the natural ingredients as they can settle.
Spray on coat, mane and tails. Wipe over with a mitt, cloth or brush out. We love using a sheepskin mitt for additional shine.
Please remember to avoid using on sensitive areas including eyes, nose and on any broken skin.