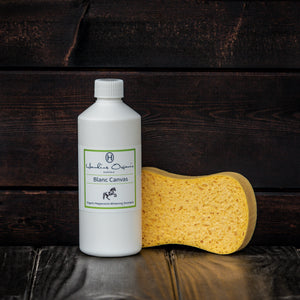 'Blanc Canvas' whitening shampoo gently removes dirt, stains leaving your horses coat clean and ready for whatever discipline.  Our whitening shampoo is essential for any grey or coloured horse.

Perfectly PH balanced and containing only natural ingredients with no nasty chemicals our shampoo is mild enough for regular use and for those horses with sensitive skins. We do not use any SLS, parabens or bleach in our products. Our organic Peppermint essential oils combined with our secret blend of natural ingredients will create the perfect 'Blanc Canvas'.
We only use certfied organic essential oils that are not tested on animals and are vegan.
Directions for use:
Wet the coat, mane and tail and either apply the shampoo directly onto the coat undiluted and rub in with a suitable brush or sponge, or add a squirt to a bucket of ideally warm water and use this way. You can leave our shampoo on the skin for 5 minutes if you have embedded stains and dirt. Rinse thoroughly and squidgy off.
Available in 500ml, 1 litre, 2.5 litre and 5 litres