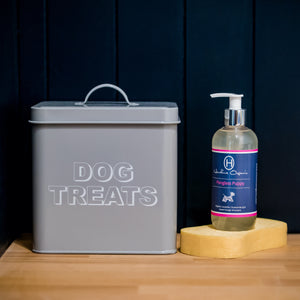 New image arriving the new formula is a neutral/clear we are waiting to take some new photos.

Your puppy will benefit from our 
gentle
 but 
effective
new formula of 'Pongless Puppy'
shampoo which will provide all the ingredients your precious puppy requires to keep them clean and fresh.
Now containing organic Lavender, roman chamomile and sweet orange which have so many benefits.
Made with only natural ingredients our chemical free shampoo is perfectly PH balanced and suitable for all skin types and dog breeds. You can also use this on dogs too, not just for puppies.
It does not contain anything nasty and we don't use
synthetic
fillers, 
sulphates
, colours, perfumes
, 
parabens, or other nasties.
Gentle cleanser, leaves coat soft, shiny and smelling divine