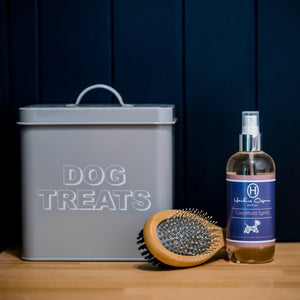 SOLD OUT
As an alternative we have our Goodnight Puppy Grooming spray and our Lemon Drizzle Grooming spray.
No More smelly dogs!
Our Natural dog deodorant containing essential oils of vanilla combined with coconut oil CocoMuts will leave your dog smelling divine and feeling very soft. 
Not only does it refresh your dog but our PH balanced spray will help condition and detangle your dog's coat so a wonderful all round spray, an essential grooming product.
All our products are paraben, SLS free
300ml Bottle